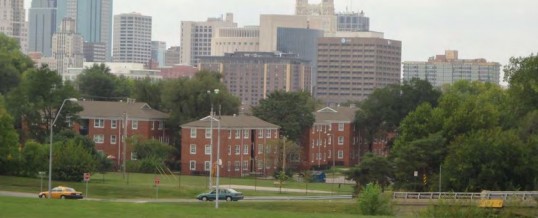 The Housing Authority of Kansas City (HAKC) was awarded a HUD $30 million Choice Neighborhoods Implementation Grant for the Paseo Gateway Choice Neighborhood in Kansas City, MO on September 28, 2015. RES served as market analyst on the Wallace Roberts & Todd team, commissioned by HAKC to prepare the 2013 Paseo Gateway Transformation Plan. The Plan and the RES market analysis addressed commercial redevelopment along the Choice Neighborhood's Independence Avenue commercial corridor and mixed-income rental and for-sale housing in the Choice Neighborhood and also at off-site locations for residents of Chouteau Courts public housing. Funded by a Choice Neighborhoods Planning Grant awarded in 2011, the Plan will provide the framework for neighborhood redevelopment.
The team then assisted HAKC with its successful Implementation Grant application. RES prepared the Preliminary Market Assessment, marking our work on a third successful Choice Implementation Grant.
Click here to read more Paseo Gateway and the Implementation Grant.
Share